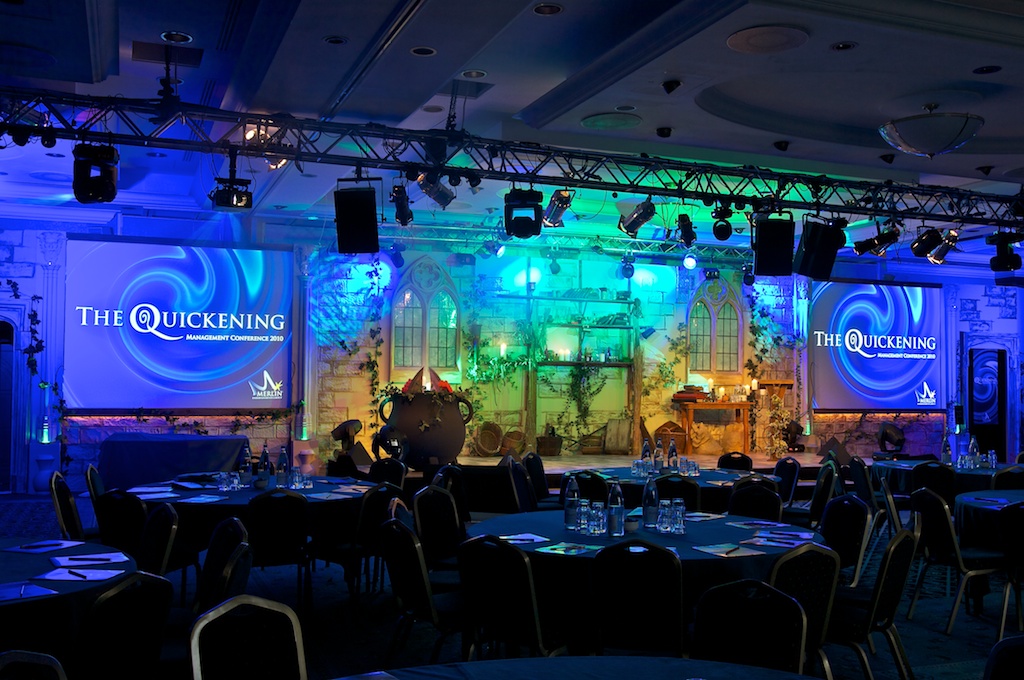 Merlin's Magical Conference for the 5th Year Running
For the 5th year running, Merlin Entertainments Group appointed us as their production company for their annual management conference. Held at the Alton Towers Conference Centre in Staffordshire, the conference is designed to promote the continuing growth of the organisation, and this time was centred around the theme 'The Quickening III', and particularly, the magical 'Bedazzlement' spell. For the event we created the enchanted backdrop of Merlin's library, complete with ornate bookshelves harbouring fairy-tale stories and mystical books of potions. Stained glass windows were built into the design among the bookcases, and these doubled up as plasma screens displaying video and graphics content, along with stunning special effects to build the drama.
The whole set and stage was lit using a combination of moving effect lights and LED lighting, complementing the presentation with appropriate colour changes to suit the mood. Touch screen plasma screens in reception displayed the agenda for the event, and the whole conference proved to be an interactive experience for all who attended: every table had an iPad so that the 300 delegates present could get involved in an electronic keypad voting system, and vote live on various subjects. The iPads also displayed an internal Twitter feed so that delegates could tweet live throughout the entire presentation.
We were appointed by Merlin just over 5 years ago, and in the past this exciting event has taken us to Italy and Germany. The conference always proves to be a great success for all involved, and we look forward to working with Merlin again next year, and wait with anticipation as to what the next magical theme will be.