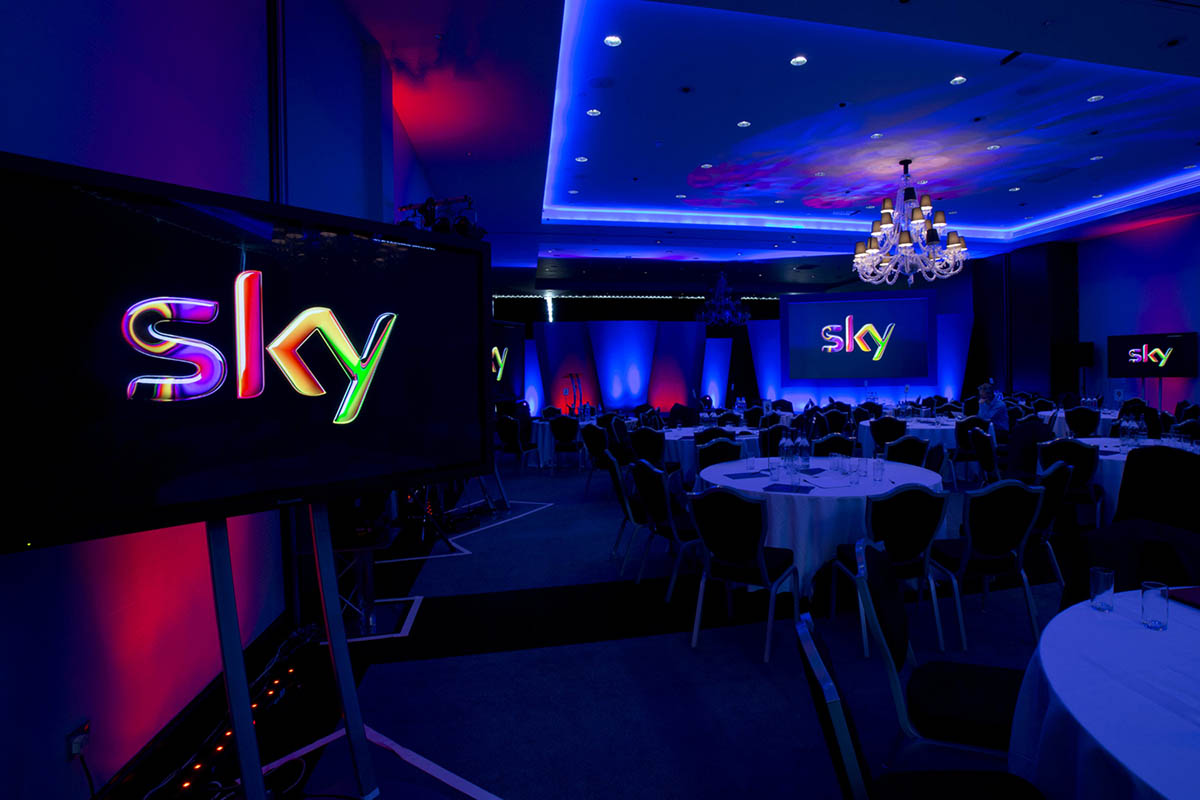 BSkyB Technology Division Leadership Conference July 2013
Conference Craft were appointed by BSkyB's Technology Division as their production company for their bi-annual Leadership Conference. Attended by 160 delegates, the event was held at the Hilton London Syon Park, a scenic country escape just 7 miles from the City. Building on the success of having previously done this event, Conference Craft were delighted to be selected by BSkyB once again.
This event displayed the technical know-how and logistical experience of Conference Craft's highly skilled team, as we had to create a bespoke set which worked around the chandeliers hanging in the conference room. Due to these constraints, the 14ft wide, high definition projection screen had to be set up to one side, and as the venue was being used during the day before we worked through the night rigging the Set, Staging and AV systems ready for 7am hand over to the show crew
The production included not only the 14ft wide high definition projection screen, but also 4 x 65 inch plasma screens spread throughout the room, also running in high definition to produce a crystal clear image. The whole set was lit with LED lighting, which changed colour with each different presenter to match the supporting slides, and 4 moving head Martin Mac 250s were positioned down room to add coloured lighting to the room and ceiling. A high quality PA system manufactured by EM Acoustics ensured that the sound was clear and sharp, and a ramp for disabled access was incorporated into the stage design.
As with all of our events, the Technology Divison Leadership Conference proved to be a great success and was delivered flawlessly, despite the challenging logistical requirements of the venue. An email from our client confirmed that we yet again displayed an unparalleled level of dedication and service, underscoring Conference Craft as one of the UK's leading event production specialists:
"I just wanted to say thank-you to you and the team for a great job yesterday – the set looked great, everyone was very impressed, and as always you did us proud."
We maintain a very good working relationship with BSkyB, and look forward to working with them again in the future.