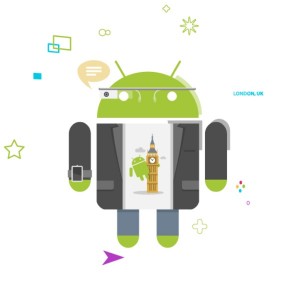 Projection, Live Streaming and other AV requirements at Droidcon 2013
For the third year in a row, Skills Matter appointed Conference Craft as their production company to make sure Droidcon 2013 went off without a hitch.
Droidcon, an annual convention for Android developers, was held at the Business Design Centre in Islington, London between the 24th and the 27th of October. The first two days were given to an extensive series of seminars and presentations on all aspects of Android development from Project Management to gaming.
The conference was split across an auditorium and four separate conference rooms. The various events were held simultaneously in all five rooms from 8:30 in the morning until 6 in the evening. At a count of nine events per room, per day, the attendees had a huge number to choose from but our engineers were lucky enough to attend them all.
Each room was managed by one engineer who was responsible for all of the audio and projection. The main auditorium required a twin-screen projection system enabling different content to be sent to each screen independently, as well as all content sent to the web streaming equipment and overflow room.
A PA system, stage and lighting were also installed and each of the four conference rooms had similar AV requirements. Across the five rooms were a total of 21 Shure radio mics and a varied amount of signals in each room had to be converted to a single source type to feed the projector and the web streaming equipment. All this was done using a combination of HDMI converters, Analog Way Di-VentiX switching or Kramer switcher/scalers.
The conference also included a number of keynote talks which were streamed live across the web simultaneously which gave the engineers another way to demonstrate their expertise.
Naturally, at an Android developers' convention, we weren't the only people who brought some impressive kit along. Among the exhibits gaining the most attention was the Seraku Smart Mirror, a bathroom mirror powered by Android, and Epson's Moverio glasses, an innovation in augmented reality.
The conference proved to be a great success and many of the developers have already booked their place at Droidcon 2014. As usual, it was an interesting experience for our engineers and we look forward to working with Skills Matter next year. Who knows what the Android developers will have come up with by then?