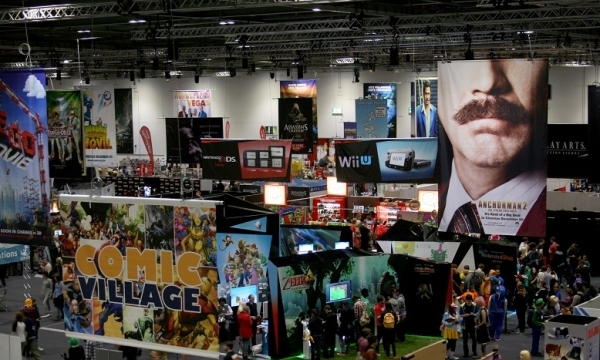 Conference Craft provide Audio, Video and Lighting for Comic Con 2013
From the 23rd until the 25th of October, Conference Craft were employed by the MCM group to install audio, video, lighting and projection systems for Comic Con Expo 2013. Expos tend to act like a magnet, drawing enthusiasts from all corners to share a common passion – and they don't get much more enthusiastic than comic-book fans. Comic Con is a colourful celebration of comic books, video games and, of course, cosplay (more on that later). Each year, thousands of aficionados and devotees flock to London's ExCel centre to join in the fun. Naturally, a staggering festival of comic-culture doesn't just happen by itself. For an event like this, you need the best sound and video equipment and luckily, Team Conference Craft were on hand with more tech than you can shake a lightsaber at.
Main Stage
This year, the main stage event was held in its own hall with capacity for 1000 people (or zombies, or superheroes).
Video Projection
We installed a full HD projection system and a 24ft-wide projection screen. We used a HD Di-VentiX switcher to control media from a range of sources. This versatile piece of kit makes it possible to simultaneously display video from more than one source at a time which allows for some exciting picture-within-a-picture effects. Video games play a large part of the Comic Con experience. For some of the events, live gameplay was projected showcasing the new Playstation console. Due to the long distances, the signals were converted from HDMI and VGA down to a CAT 5 shielded cable system. At the projector and switcher ends, the signals were then re-converted to their original sources.
Audio
With the video taken care of, the next challenge was transmitting audio from the vast array of radio mics and media sources. We supplied and installed a flown Bose Panaray sound system to make sure everyone got clear, high-quality audio.
Lighting
The lighting system was suspended above the audience and the stage on a large rectangular truss. This consisted of LED wash lighting for the stage and catwalk and Martin Mac 550 moving-head lights which used moving effects and gobo projection to add a very dynamic and exciting atmosphere. As well as stage lighting, we also installed LED floods as audience lighting to comply with health and safety requirements. The entire main stage system was supervised by a three-person technical team who made sure everything ran smoothly despite the ever-present threat from comic-book villains competing in the Europe Cosplay finals. Cosplay is short for 'costume play', in which the enthusiasts dress up as their favourite characters. Many of the participants are happy enough to wear a costume but some take it very seriously indeed, embodying the character completely. With all of the superheroes and steampunk criminals milling around, this can have the potential for chaos. We're happy to report, however, that everyone behaved themselves. You can see some of the costumes here and here.
Vidfest, Games Stage, eSports stage and Cosplay
Aside from the main stage, another four stages were located around the venue. Each stage catered for 500 people at a time and three of them included HD projection systems and screens ranging from 10 to 13ft. In the case of the eSports stage, a Panasonic projector sat 30m away from the screen. By using a special long-throw lens, we overcame the issue of filling the screen without having to resort to using a sonic screwdriver. We split our EM Acoustics conference sound system into smaller units to accommodate each of the stages and, again, we fitted these stages with a variety of handheld and headset radio microphones. Our client used their own engineers to operate the equipment and we had an engineer on-site to supervise all of the stages. The fourth stage was kitted out with a PA system and was used for live demonstrations of cosplay costumes and techniques.
Exhibition Area
The rest of the ExCel's floor space was taken up by a hi-tech multi-coloured bazaar. Here, you could buy anything from comic-book figurines to retro video-game cartridges. With thousands of fans filtering through the area, the exhibitors had a great opportunity to reach their customers. To help them do this, we supplied a range of plasma screens showing film and game content. As a final touch, we supplied four overhead trusses to display large advertising banners for a variety of products including Lego, Manga and Batman. Overall, Comic Con 2013 was a great success, not to mention a fun experience for us. We're really pleased to have worked with MCM and we look forward to helping them with more events in 2014. In the meantime, between providing for our other clients, we'll be working on our costumes for next year's cosplay finals.