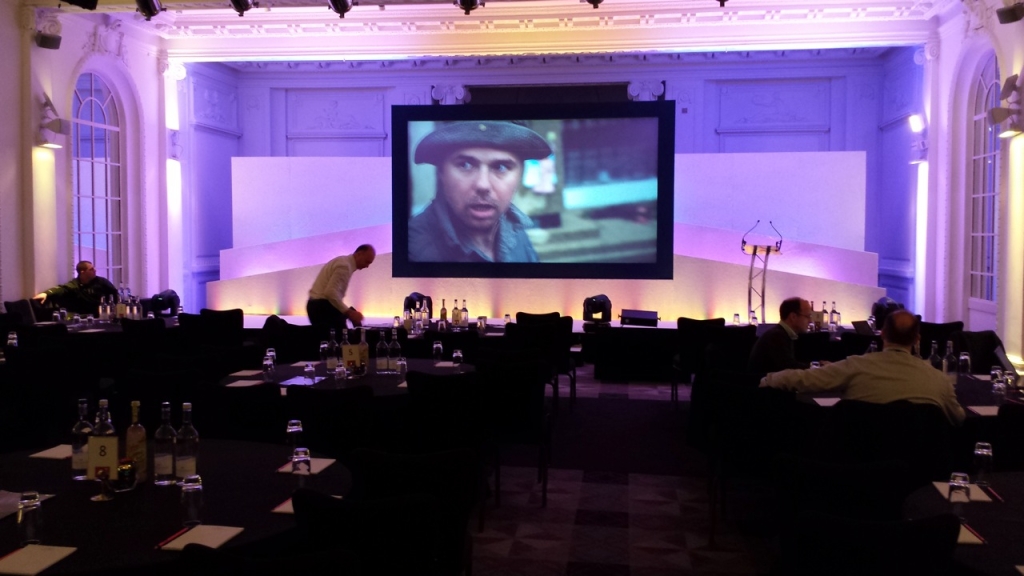 Raising the Bar for Technical Event Management
After the success of the BskyB Technology Division Leadership Conference in July 2013, Conference Craft were once again appointed to provide technical event support for their latest conference in February. Since we always try to surpass ourselves, we couldn't just deliver the same package – this one had to be even better!
Set Design
For this latest conference, we developed an exciting backdrop which acted as a projection  area. The area consisted of a multi-tiered system of panels, arranged in a step-configuration. We projected multi-coloured lights onto these panels which gave a 3D effect to the whole set  and evoked a greater sense of depth.
Overcoming logistical challenges
Among the other changes since last July was the venue itself. BskyB's bi-annual conference was  held this time at 8 Northumberland Avenue near Trafalgar Square – a far cry from the open settings of Syon Park. This Victorian building was built in 1887 and served as a hotel up until the 1940's. It suffices to say that "London's most central venue" pre-dates the invention of loading bays. The access issues presented a slight logistical challenge to our team but it was nothing we couldn't handle. Before long, we navigated the building's corridors and moved all of the equipment to the Old Billiard Room which, to our disappointment, was minus an old billiard table.
Technical Diversity
As one might expect, the main topic of discussion at this event was the range of new and upcoming technologies from Sky. We'd love to tell you all about the exciting new developments but that would spoil the surprise! We can however tell you about how we integrated these new offerings with our own equipment. Due to the differences between the Sky boxes and our switching equipment, we were faced with something of a technical challenge. As a result of our technical diversity, we managed to make the Sky boxes and our switchers talk to each other – thus reinforcing our reputation as the Doctor Doolittle of the audio-visual world!
New Toys!
For most of the technicians on site, there was a tangible excitement in the air. We have recently purchased two Samsung 75" LED-backlit screens and the BskyB conference marked our first chance to try them out. We installed them on the walls half-way down the room as repeater screens to relay images from the main screen at the front. This ensured that everyone, no matter where they were sitting, got a clear view of the proceedings. All-in-all, the leadership conference was a great success and we thoroughly enjoyed being able to try out new things, as well as overcome new obstacles. We have once again raised the bar and we are looking forward to beating our own performance at BskyB's next conference.