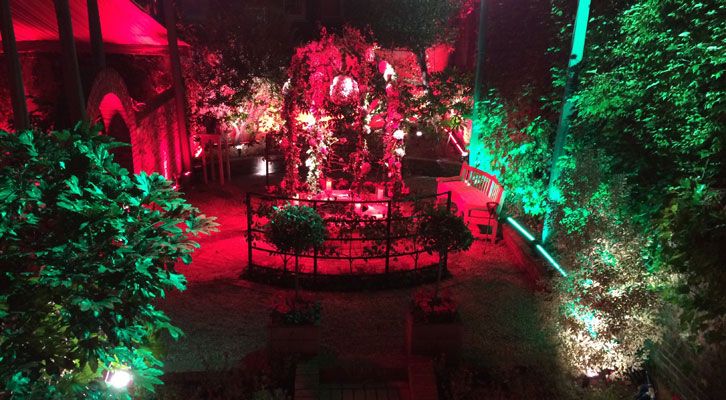 Knightsbridge Garden Party - Corporate Anniversary Event
The Event
Conference Craft were recently commissioned for the set-up, design and supply of Audio and Visual equipment for a garden party in the exclusive Central London area of Knightsbridge.
The event was organised to celebrate the special anniversary of a large corporate organisation.
Key to this event was that it should reflect the elegance of glamorous Knightsbridge. Conference Craft were instrumental in planning, designing and overseeing every aspect of this prestigious event; ensuring that all was in place behind the scenes, fulfilling our remit to deliver an impressive and memorable occasion.
Set-up
The first hurdle was the location of the AV equipment controls. To guarantee the integrity of this ethereal garden setting; logistics dictated that the sound and lighting control equipment had to be hidden inside the premises. We overcame this by incorporating battery powered LED lights across the premises and by using smart portable sound system software for audio. Lighting controls were placed discretely amongst the shrubbery.
Conference Craft understood that this natural setting should be brought to life with subtle illuminations – excessively harsh lighting would be out of place – so we created a unique ambient glow with a variety of coloured lights designed to harmonise with the night garden.
Lighting
To achieve this effect, we embedded coloured wash lights as well as LED spotlights beneath bushes and shrubs, highlighting them in hues of greens and whites. LED Batons were also installed against the walls and walkways, emphasising them in red, creating a sense of subtle intimacy and warmth against the dark night sky.
Coloured LED and white spotlights were flown on trusses across darker parts of the garden as well as sheltered areas where guests were most likely to congregate and socialise.
The event was also home to a breath taking fountain, also matched to the colour scheme – we even tinted the water a subtle cranberry hue.
Sound
As the sound equipment had to be controlled from the inside, we overcame this logistical problem by using a Yamaha LS9 linked to LS9 Stagemix software for use on an iPad. This gave us complete mobility and control over the audio at all times.
As well as the Yamaha LS9, we provided the live musicians with sound system equipment including monitoring and a variety of microphones.
Conference Craft achieved our goal; this unique event was declared an impressive success; the guests were captivated by the vibrant and convivial atmosphere and the sheer splendour of Conference Craft's effects.
If you are interested in what Conference Craft can provide for your event, give us a call on 01753 689999 or fill in our enquiry form and we will get back to you.