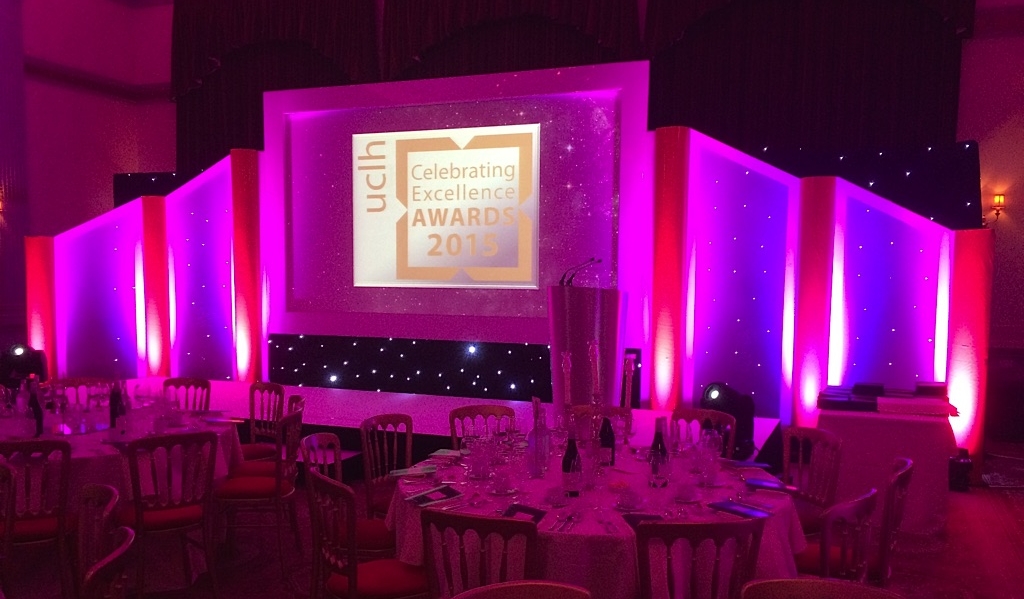 Conference Craft at the UCLH Celebrating Excellence Awards 2015
University College London Hospitals (UCLH) hold their annual 'Celebrating Excellence Awards' to reward and acknowledge those who go above and beyond their line of work within the NHS. The UCLH Celebrating Excellence Awards is a ceremony Conference Craft are well-versed with, with 2015 being the third UCLH event we have worked at.
The ceremony itself occurs in London each year to deliver excellence awards to staff who have truly reflected the values that the NHS holds close to their heart. Those nominated are recognised for their selfless and tireless commitment to their work, with nominations collected over the course of several months prior to the ceremony for fourteen awards divided into three different categories.
Set Design, Lighting and Display
This year, the award ceremony was held in Plaisterers Hall, London. The hall in use for the ceremony would be filled to maximum capacity, and so, we had to ensure that space was used optimally, whilst adhering to strict health and safety regulations.
A new set was built for the 2015 awards, which utilised gauze panels (semi-transparent frames) with starcloth and LED uplighters behind. Further coloured LED lights were also placed in front of the staggered, half-moon shaped columns to bring added vibrancy and bursts of bright colour to the stage.
In the centre of the set, a 13ft screen was incorporated for videos and slides, with our projector flown on trusses to save space in the filled hall. Two additional 50" screens were also installed at the back of the room, to ensure everyone in attendance could see what was happening.
As well as on stage, LED uplights were placed around the room to carry the colour theme of purple/pink throughout. Conference Craft also created custom gobos for use on moving head lights incorporating the Celebrating Excellence Awards logo in bright white. We also used patterned break up gobos on moving headlights to bring texture, movement and energy to the hall, giving it a celebratory and prestigious feel.
Content-wise, Conference Craft produced slides of the names of the nominees and ran them together with video on our QLab video media server.
Challenges
With the hall set up for maximum capacity, Conference Craft needed to be able to guarantee a safe and easy exit for attendees should there be an emergency evacuation. The challenge arose in that the fire exit was directly situated behind the stage area. This meant we had to make sure that a safe amount of room was left behind and either side of the stage for attendees and staff to exit safely should they need to. Luckily, we managed to condense the stage area to fit into the tight spot, leaving plenty of room to move around.
The UCLH 2015 Celebrating Excellence Awards was once again a spectacular and emotional event, just as the previous two ceremonies were. We look forward to working with UCLH again in the near future.
Visit our technical event management page to find out more information about our management services, and for information on renting lights and displays used in this event, see our AV rental page.