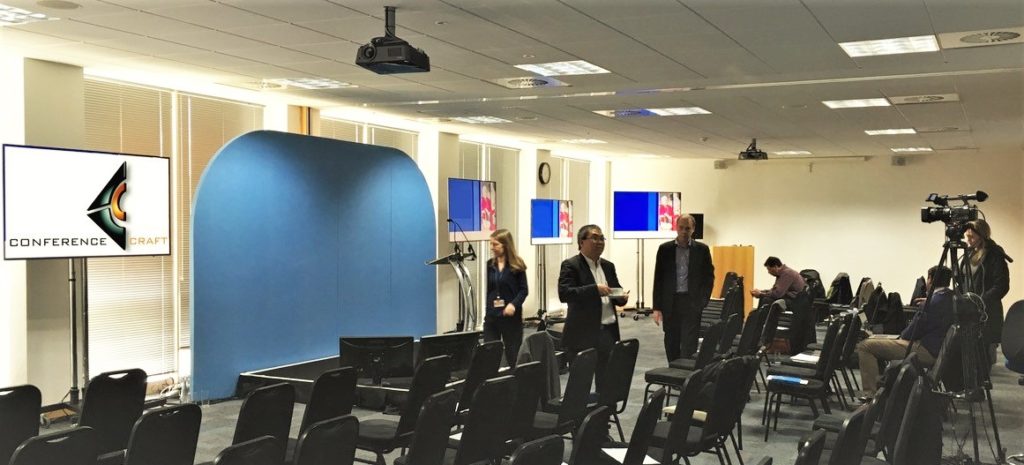 Broadcasting a Conference Around the World
We provided AV support to a large biopharmaceutical company to help with the smooth running of their annual portfolio meeting via a video conference.
As a globally based company, a key consideration was broadcasting the material to all of their locations around the world. Working closely with their in-house IT team, Conference Craft provided the sound, graphics and camera work to facilitate a Skype broadcast to large audiences, as well as private viewings, across all sites belonging to the client.
A UK conference room was set up for 100 delegates, facing an intimate presentation area with six screens displaying slide and video content, as well as live camera footage. To better connect with their audience, we ensured simultaneous display of the live camera footage of the speaker and presentation screen content.
We also provided audio and visual support to ensure that the event had a fully accessible two-way communication system to assist with the delivery of the live presentations, as well as Q&A sessions at all of the sites.
To cater to those working in different time zones, and to ensure that the meeting could be accessed by as many people as possible, we recorded the event, which was then uploaded onto the company intranet.
We are proud to have been a part of such an important event and  worked with our client to deliver a complex set up bespoke to their requirements.