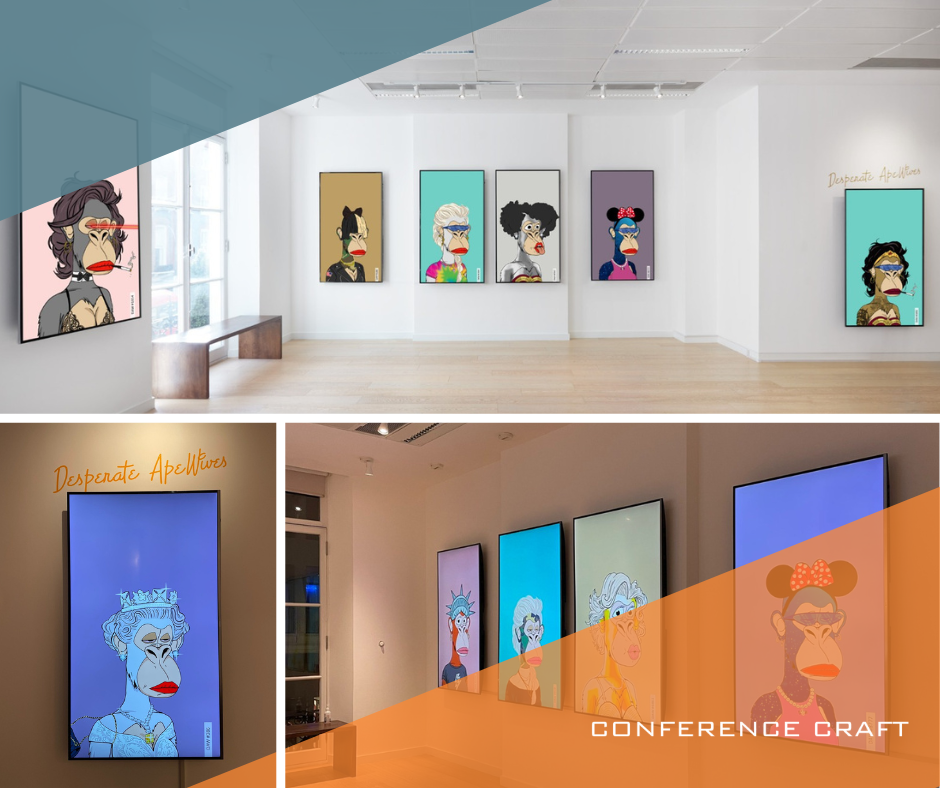 Desperate ApeWives Exhibition
Desperate ApeWives (DAW) is an NFT community and platform that drives the evolution of people, artists, and brands in Web3 and beyond. DAW are collaborating with the Omer Tiroche Gallery, a modern and contemporary art gallery located in London W1, to bring an exhibition of their NFTs to Mayfair.
The exhibition features a selection of DAW's bold figures, which were one of the of the first NFT collections to feature female personas.
It's a randomly generated project. Each Desperate Ape Wife is unique and algorithmically generated from over 218 traits. These were hand sketched using Procreate software and were then added to a generative software that creates 1/1 images from the individual traits.
With a two-day lead notice, Conference Craft was asked to support the Omer Tiroche Gallery in setting up LED screens for the digital exhibition, with each frame displaying around 20 portraits.
Out of the 10,000 assertive female ape characters originated and published in October 2021, DAW #845, which featured characteristics inspired by Da Vinci's Mona Lisa, sold for a record-breaking 87 ETH ($390,000 at the time of sale).
Along with the artwork file, the final buyer also receives a membership to the DAW community with exclusive deals. The exhibition will be on view in the gallery until May 6th.