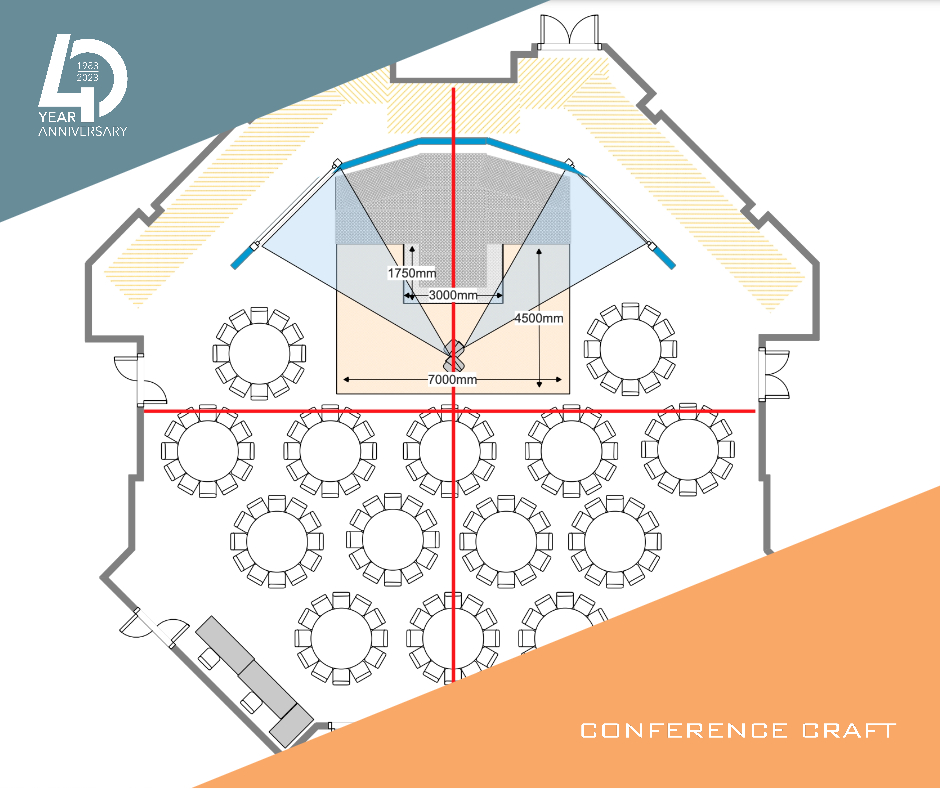 Do you know how to choose the best floor plan for your conference or event?
When organising a conference or business event, selecting the right floor plan is crucial to ensure a successful experience for your attendees. The floor plan sets the tone for the event and affects everything from the flow of traffic to the level of engagement among your participants. Let's take a look at a few different styles of floor plans you can consider when planning your next conference or business event.
Theatre Style: This is a classic and widely-used floor plan for presentations and lectures. Chairs are arranged in rows facing the stage or speaker, creating a straightforward and simple layout. This style is ideal for larger events that focus on the speaker and the content being presented. 
Classroom Style: In this style, chairs and tables are arranged in a more formal setting, with attendees seated at individual tables. This style is ideal for workshops and training sessions where participants need to take notes and interact with each other. This style also allows for greater flexibility in terms of group work and activities. 
U-Shape Style: This style is similar to the classroom style but with tables arranged in a U-shape instead of individual tables. This is ideal for small to medium-sized events where participants need to interact with each other and with the speaker. This layout allows for greater engagement and facilitates group discussions. Like the classroom style, it allows for a more intimate setting where participants can feel more comfortable asking questions and sharing ideas.
Banquet Style: This style is often used for formal events such as dinners or award ceremonies. Tables are arranged in rows, with chairs placed on either side. Keep in mind that this may not be the best option for events that require a high level of engagement or interaction, as it can be difficult for attendees to communicate with each other across the table.
Open Space Style: This is a style that is becoming increasingly popular for conferences and business events. Instead of traditional seating arrangements, attendees are free to move around the space and interact with each other in a more informal setting. This style is ideal for networking events and exhibitions, where participants need to be able to move around and connect with different people. 
When selecting a floor plan for your conference or business event, there are several factors to consider:
1. The size of the space and the number of attendees. You should also consider the type of event you are hosting and the goals you have for the event. 
2. Accessibility. It's important to ensure that the floor plan allows for easy access to all areas of the space, including entrances, exits, and restrooms. It's also important to consider any special needs or accommodations that your attendees may require, such as wheelchair accessibility or seating for hearing-impaired individuals.
3. Be flexible and adaptable when choosing a floor plan. Depending on the nature of your event, you may need to adjust the floor plan to accommodate unforeseen circumstances or changing requirements. It is always a good idea to have a backup plan in case of unexpected changes.
These are details that we'll discuss with you when we review your brief for the event. We have extensive experience with all the venues we work with, and we'll help you select the best floor plan for your event. 
Do you have an upcoming conference or event that you need help with? 
Get in touch: https://www.conferencecraft.com/get-in-touch