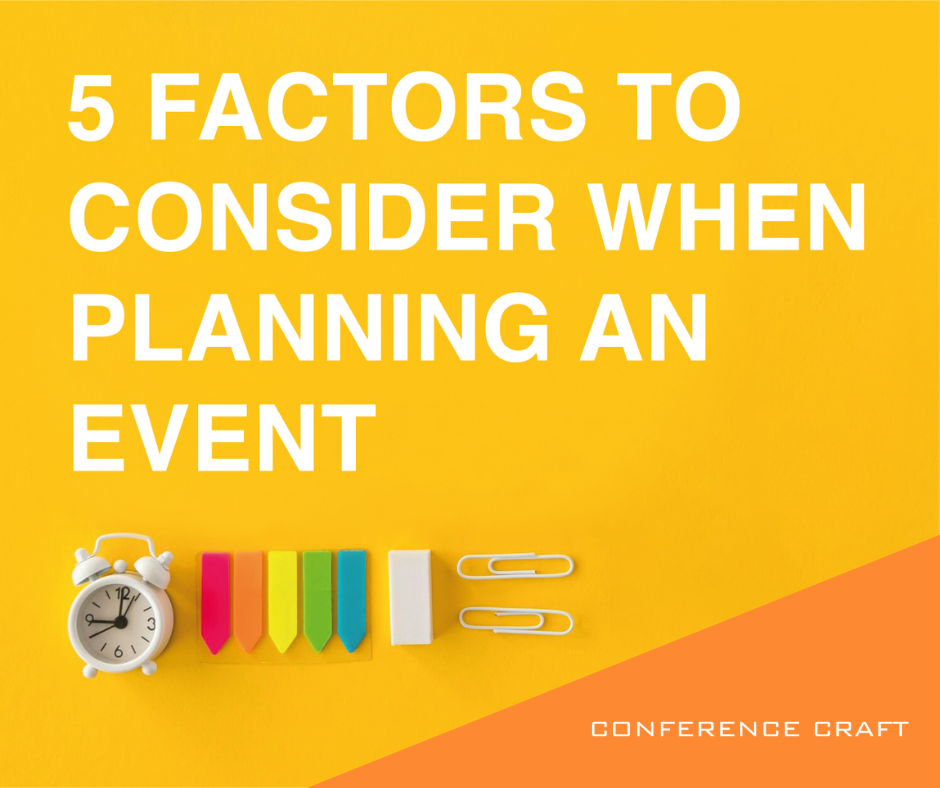 5 Factors To Consider When Planning An Event
Planning an event can be a daunting process and there are a number of factors to consider when organising an event, making it difficult to know where to begin.
Conference Craft works alongside you to bring your ideas to life, minimising your stress and elevating your event ideas. Once you have an idea of your event date and size, it's helpful to think about other factors to help you visualise your event. We have compiled a list of 5 factors you should consider before we create a brief with you.
---
There is a range of potential for the format of your event, from live and hybrid events to micro events or large hall conferences. Consider whether your audience and the delivery style you are looking to undertake aligns with the intended purpose of your event. As event production specialists, we can ensure your audience are engaged no matter which format of event you are looking to create.
Location
Finding the perfect location for you event or conference can be difficult, but it doesn't have to be boring! Conference Craft has produced events in a number of alternative venues, creating memorable and exciting occasions, and can help you find a great venue within your preferred location too. If you're looking for venue inspiration in London, look no further.
Theming
The finer details of your event can be just as important, whether that is a specific colour scheme, themed table centrepieces or floristry. Sourcing the right products and materials helps bring your event ideas together to create a theme that matches your format. Incorporating a theme can also help to engage your audience and make them feel more aligned with the purpose of the event.
Technical Details
When planning your event, there are various technical options that have to be considered. Events of all sizes can benefit from a range of technical options, from sound, audio and lighting hire to projectors and video conferencing systems. Choosing the right equipment is important as it can help to elevate your event towards success. As part of our AV Hire service, we can also provide you with an expert AV rental team to prepare and manage all of the equipment during the event, all with a 24-hour call out, leaving nothing to chance.
Set Up
Now that you have considered a range of factors, the final step is the set up of your event. If you are thinking about a hybrid event or offering live streaming services, where Teams or Zoom are integrated into your presentation. We offer a variety of equipment options to integrate your audience no matter where they are located, with options for your event or conference to be broadcast through online platforms such as YouTube to create a seamless experience for everyone involved.
Once you have considered these factors, its time to brief us so that we can begin producing the perfect event or conference for you!