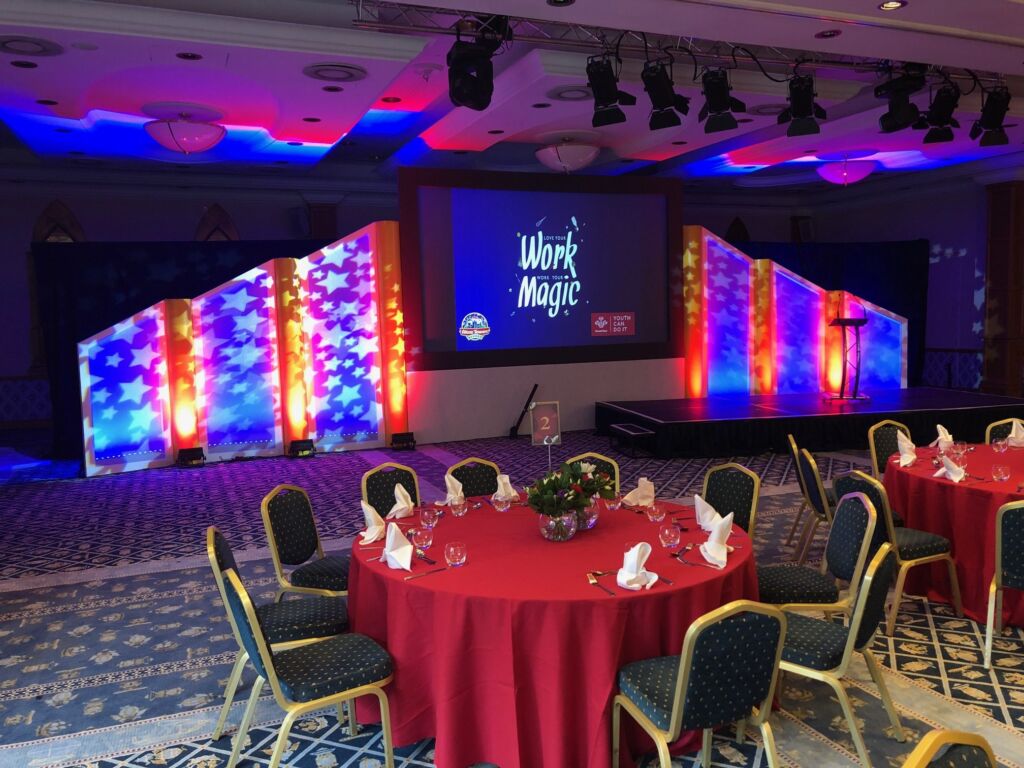 At Conference Craft, we are proud of our ongoing relationship with the brilliant Prince's Trust charity, and we were delighted to be able to offer our expertise for the recent graduation ceremony of their amazing young people this year.
The Prince's Trust was founded in 1976 by the Prince of Wales to help vulnerable young people get their lives back on track. The support helps with education and employment, and each year they hold a graduation ceremony to recognise the inspiring achievements of their young stars.
These annual graduation ceremonies are organised with the assistance of the Alton Towers Resort, who lends its venue to the cause of showing recognition to these marvellous young people; many of whom have had to overcome tremendous obstacles to reach this point.
Our creative team installed a full set for the ceremony and also supplied a laser projector to illuminate the substantial 14ft screen that took centre stage. The finished set boasted a vibrant array of fully back-lit panels, and these were complemented by our additional lighting systems, flown overhead on a truss.
Our PA sound systems ensured the acceptance speeches were heard as crisply and cleanly in the back row as they were in the front, and our extravagant confetti cannons added a dramatic celebratory fanfare of colour and sound.
The confetti cannons' benefits, in particular, were two-fold; not only were they an eye-catching and aurally pleasing addition, they were also a much safer alternative to pyrotechnic apparatus whilst still being able to dazzle the crowd.
The whole team at Conference Craft would like to offer our congratulations to all the wonderful young people who graduated this year, and our thanks to the amazing people who arrange this event every year.