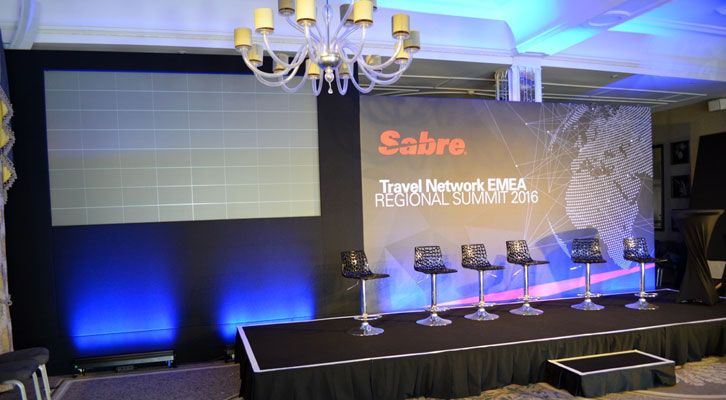 Sabre® is recognised for being a leading technology solutions provider to the airline, hospitality and travel industry, helping to grow their customers' businesses and revenue.
In February, Sabre were due to hold an event for their Senior Management – their Regional Summit 2016, and Conference Craft were on hand to produce and manage the two day event. Held within the luxurious Richmond Hill Hotel's ballroom, our main focus was on ensuring the room's aesthetics portrayed a cohesive and solid message with Sabre's branding and colour schemes.
To achieve the cohesive look, Conference Craft designed and produced a Sabre branded backdrop to go behind the stage area, utilising their logo with a large globe graphic. We incorporated blue uplights along the front of the room and behind the staging area to highlight and emphasise this area of the room further, as for the first half of the event the stage was empty. For the FAQ session at the end of the event, we provided six barstools with a distinctive metal effect to seat the selected speakers.
A challenge presented itself in that Richmond Hill Hotel's ballroom was of a classic ballroom design, meaning that characteristic chandeliers were a prominent feature throughout the room. These, along with several pillars dotted throughout meant that we had to come up solution to ensure there were no projection issues. Consequently, we purposefully set up the stage area with the screen off to one side, slightly raised, ensuring the whole audience could clearly see both the speakers and the screen.
As well as the design, set up and build of the event, Conference Craft also managed the playback of the PowerPoint presentations and all audio and lighting equipment.